Digital Canvas Printing Gold Coast Printed Canvas Brisbane
Quality, long lasting, vibrant and eco friendly digital canvas printing by Eco Graphics. We produce the best quality digitally colour correct custom canvas prints at low prices. The canvas we use is unlike most other canvas on the market prepared for digital printing– environmentally friendly with no hazardous chemicals used, mostly made from cotton, acid free designed for longevity, fade resistant for Eco Graphics custom photo prints, graphics and artist reproduction canvas prints.
Recently Eco Graphics produced over 140 1 metre x 1 metre stretched framed printed canvases for a client that are now beautifully displayed in two new apartment buildings on the Gold Coast. The client, apartment managers and the interior decorator are all very impressed with the quality of photographic canvas prints Eco Graphics produced.
Eco Graphics can also print on some speciality fabrics. See the fabulous upholstered walls of the bar that Eco Graphics printed. Please enquire if you have unusual wall printing requests.
Whether you are a photographer, from a company wanting a unique canvas print or even acrylic print on your reception, meeting room or board room wall, desiring beautiful quality canvas prints, requiring any photos printed to canvas, ie  graphics, portrait, landscape, animal or holiday, an artist producing a painting- we can print your base painting of sketches, lightened/toned back image underpainting or digital photograph on to canvas for you, so that you can paint brush over for effects.
To add depth, gloss and very long lasting protection, Eco Graphics offer to UV coat your digitally printed canvas for a low cost. Unless the canvas print is being painted over, we recommend this option. The UV Clear Coating is an aqueous (water) based liquid that is adhered to the printed canvas. It is classified non hazardous and won a Victorian Government Health and Safety Award.
We offer to have your digitally printed canvas print stretched onto frames. The timber used is accredited sustainable forest material being Australian Plantation timber. To save even more money, canvas prints can be simply supplied to you. Industry clients in particular usually prefer their canvas prints that way. This option is also convenient for cost and protection if the printed canvas is going to be freighted.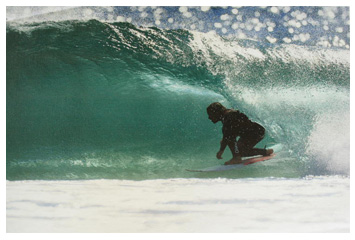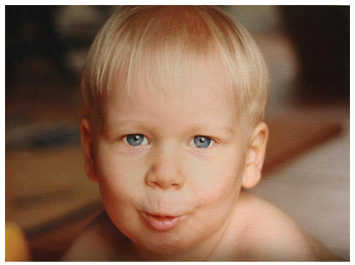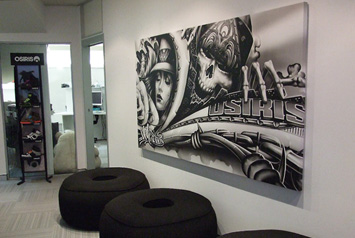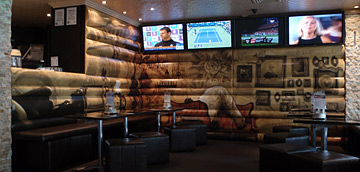 Eco Graphics printed canvas image facsia can be small to 1.2 metres by many metres long.
Note digital printing images need to be of a high resolution to receive great quality. Please view artwork specifications if supplying your own artwork file.
Eco Graphics canvas prints are great quality, projecting life, memories or ambience to any room!
Thanks so much for your help on this project, the printed canvas looks amazing on the wall. I will be in touch should we have any further printing needs.
K. Manson Fashion Company
Please know canvas digital printing on a roll can easily and cost effectively be transport by Eco Graphics Australia wide.
For prompt service email now or call us on (07) 5500 0400 for the best quality custom canvas printing at low prices!
Please know that canvas printing, prints canvas, reception prints, printed canvas reception canvas print, board room canvas printing, Giclee prints, giclée canvas prints (pronounced gee'clay), canvas art prints, artist printed canvas, photo canvas, photo on canvas print, photo canvas prints, photo printed canvas, photographic printed canvas, graphics printed canvas print are all part of the same family.