Vehicle Signage Car Stickers Brisbane Car Wraps Gold Coast
Be noticed by 1000's of vehicles passing by and reap the rewards. If you want to benefit by displaying the best quality eye catching company vehicle advertising and branding on vehicles for very reasonable prices, Eco Graphics is only too happy to do so. Producing quality car advertising to suit your requirements, Eco Graphics offer total car wraps, car panel advertising, car door stickers, truck signage, van stickers, boat decals, ute signage, windscreen advertising stickers and other vehicle graphics, including fleet car signage. Whether you want simple type vinyl stickers or something really different for your vehicle advertising, with incredible looking graphics and/or high resolution photographs to compliment. Eco Graphics offer to have your vehicle signage professionally designed to get your message across clearly, all the while looking fantastic. Impact and attention grabbing is paramount with Eco Graphics vehicle signage. You are welcome and encouraged to supply your own art if you are an industry client or have already had professionally designed artwork produced. See art specifications for supplying artwork. Our installers come to your business premise, saving you time and money.
Know that quality vinyl actually protects vehicle's paintwork.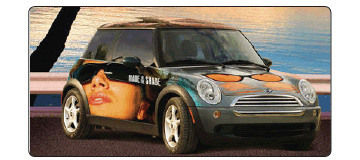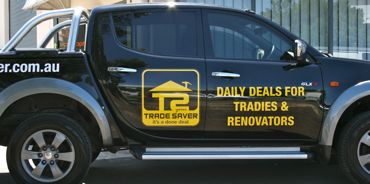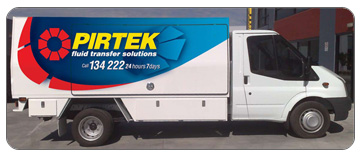 Eco Graphics utilises quality long lasting cast vinyl where high conformability is required, polymeric vinyls and UV laminates, depending which is most suitable for specific vehicle graphics, so know you will receive a professional top job.
Digitally printed car stickers
Whether you want a cut out logo with contact details or full colour imagery and graphics on vehicle panels, Eco graphics offer to produce, print, UV laminate and instal car stickers if required. We produce advertising car stickers, 4WD stickers including hard case wheel cover stickers, truck stickers, van stickers, boat decals and ute stickers and signage. See also Bumper stickers.
Ute signage
We offer complete ute signs and stickers. Whether you require a sign for the rear end of a tray, and or panel stickers, we offer ute advertising to suit your needs.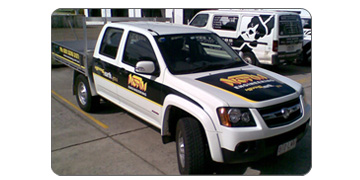 Car Wraps
When you want that WOW factor, Eco Graphics vehicle wraps will obtain it! Not only will your car(s) paintwork be protected, everybody just can't help but stop and stare when you have eye catching graphics and imagery all over your car, van or ute. Vehicle wraps are a sure way to get noticed on the road, creating more business everywhere, wrapped company vehicles go. We produce fleet vehicle car wraps and industry client car wraps. Eco graphics have access to an extensive library of high resolution images, please discuss if you require design, what you have in mind and let our creative team work magic. Feel free to supply finished art files.
One way view windscreen advertising
Otherwise known as see through window film, car windscreen advertising, one way vision film. You can see out, but onlookers can only see back windscreen advertising! This is a great promotional way to promote a business as so many people will view it. For longevity and added protection Eco graphics offers the recommended option to overlaminate the digitally printed one way film using a specific appropriate laminate.
Car magnets
The great thing about digitally printed car magnets is they are versatile and low cost! Vehicle magnets can be taken on and off your vehicles, when it suits. Eco Graphics car magnets are made using specific thick magnet especially for adhering to vehicles. They are long lasting, as they are printed then UV overlaminated for protection from the elements and handling. It is easy for us to custom size your magnets to fit perfectly to your car, so just let us know the sizes that suit to fit your vehicle doors or body. Please note that the magnets must be applied to flat panel surfaces only. See also Car Magnets.
Eco Graphics vehicle signage captures the attention of walk and drive by traffic ultimately boosting your profits.
Create free advertising and awareness to your business, product or brand for minimal once off cost.
For the best quality car decals at low prices and prompt service, email now or call us: (07) 5500 0400.
Please know that car graphics, car window graphics, car windscreen promotions, car window advertising, car windscreen, vehicle advertising, vinyl stickers, vehicle stickers, ute stickers, car window stickers, one way vision printing, digitally printed one way vision, printed one way window film, car stickers, car signs, car digital printing, car advertising, truck graphics, truck decals, truck signs, boat decals, boat graphics, printed boat stickers, yacht stickers, yacht names, yacht graphics, laminated car signs,  door stickers, car advertising, ute signs, ute signage, ute advertising, utility printed signs, digitally printed large magnets, car wholesale digital printing, ute magnets, van signange, van signs, van decals, van advertising, van printed stickers, car digitally printed wraps, car wrap arounds, car body sticker, van magnets, rear end car signage, back wheel advertising, rear wheel stickers, full colour car stickers are all part of the same large family.