Portable Displays Roll Up Pull Up Retractor Banners
Low priced advertising pull up banners are perfect for portable displays. Portable roll up banner stands are a great and economical way to communicate – promote your business, branding or product when you need a promotional display that is lightweight, portable, easy and fast to present for a temporary display, presentation or exhibition. Eco Graphics produces and installs top quality, colour correct, full colour portable custom printed roll up banner stands, taylor made suit your business needs. Even though Eco Graphics pull up banner prices are low, they are high quality, unlike some on the market that we refuse to supply.
Your choice of two quality portable pull up banner stand units
All Eco Graphics printed portable pull up banner stands:
Come with zip up carry bag and strap.
Are opaque, non curling, tear and water resistant.
Display eyecatching, brilliant, professional and correct print quality that is on satin glare resistant media.
Our standard printed roll up banner stands are:
Quality Eclipse Premium Pop up Banner stand

Stands 211cm x 85cm single sided quality printed banner.
Aluminium Sturdy black wide base and long lasting quality.
Extra heavy duty spring mechanism.
More stable wide base 4kg retrator unit.
Retractable pole is neatly already attached to retractor unit so it's simply a matter of pulling up the banner and hooking it to the top frame. When ready for packing away, you unhook the banner from the pole, and while holding, retract the banner back into the unit. It's that easy!

Quality Economy Roll up Banner stand

Stands 200cm x 85cm single sided. 3kg retractor unit.
Retractor unit base silver in colour.
Quality unit and mechanism made to Australian standards.
Easy and less than one minute set up and pack away.
Please enquire if you are wanting a variation of Roll up Banners, some examples are:
Different sized pull up banners. Ie 1000mm wide.
Double sided roll up banners.
Large trade show displays or exhibition stands, see business signs.
You can have Eco Graphics economically professionally design your advertising layout for a roll up banner stand. As our industry clients do, if you are supplying your own artwork file, please read art specifications. If supplying your own art file, please allow 20cm at bottom, 2cm at top extra bleed.
Roll up banners get your message across to your audience effectively with 2 metre height.
Please know digitally printied posters can easily and cost effectively be transported from Eco Graphics Australia wide.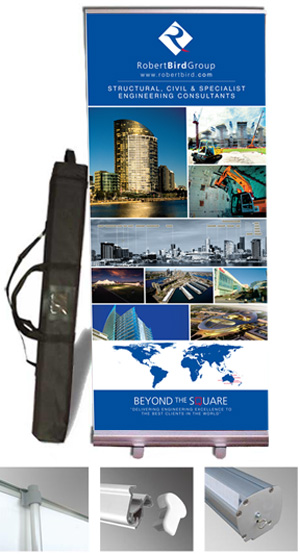 Pull up Banners Display Stands $179+gst* ea
2 metres x 85cm Pull up banners that stand up straight. Exceptional print quality made in Australia at Eco Graphics. Fully installed with carry bag included. *Each retractor banner when 2 roll up banner displays are ordered upon mention of this ad. Print ready art supplied to Eco Graphics.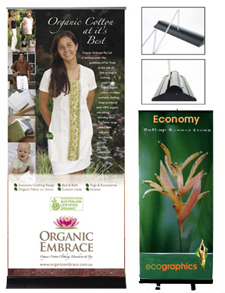 Eco Graphics have provided us with an attentive and reliable service with a quality product and competitive pricing. The customer service is excellent – more often than not I am delivered a product which looks better than I expected. Using an environmentally friendly product which is competitive in price and is also local ticks all the boxes.
K. Seeney – Marketing Manager www.runawaybayshopping.com.au
For the best quality pull up banner displays at low prices and prompt service email now or call us: (07) 5500 0400.
Please know that printed retractor banners are also known as digitally printed retractor banners, anti curl roll up banner stands, environmentally friendly roll up banners, portable advertising banner stands, portable trade show displays,  trade show signage, portable roll up banners, environmentally friendly roll up banner stands, banner stands, exhibition signs, exhibition banners, presentation banner, pop up banners, roll up signs, anti curl roll up banners, non curl roll up banners, environmentally friendly pull up banners, promotional banners, pull up signs, pull up banner signs, pop up stands, pop up banner stands, pop up signs, portable banner signs are all part of the same family.