Car Rear Window Stickers Customised Window Decals Brisbane
One way see through car window stickers, side and rear windscreen advertising is an effective form of mobile signage. You can see out, but onlookers can only see advertising on your car windows! This is a great cost effective way to promote your business.
Printed One way film advertising is great to be promoted on cars, utes, vans, mini buses, trucks, and even business and shop windows for when you wish to see out, but want your customers to view advertising.
For longevity and added protection Eco graphics offers the recommended option to overlaminate the digitally printed one way film using a specific appropriate laminate.
Eco Graphics window stickers remove easily.
Choose Eco Graphics to benefit by displaying the best quality eye catching company vehicle advertising and branding for very reasonable prices and PROMPT service. Producing quality car advertising to suit your requirements, whether you want simple type or something really different, with incredible looking graphics or photographs to compliment. Eco Graphics offer to have your vehicle window graphics professionally designed to get your message across clearly and professionally, all the while looking fantastic. Impact and grabbing attention is paramount with Eco Graphics. If you are in one of our installation service areas, we can offer to install; or to save you money, we can supply you with step by step instructions how to install your printed see through window sticker. You are welcome to supply your own finished artwork if you are an industry client or have already had professionally designed artwork produced. Please read art specifications for supplying print ready artwork.
Car windscreen decal One way view long life UV laminated from $199+gst delivered*
Print ready pdf file supplied to Eco Graphics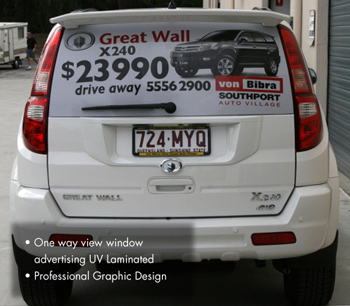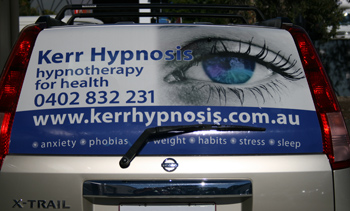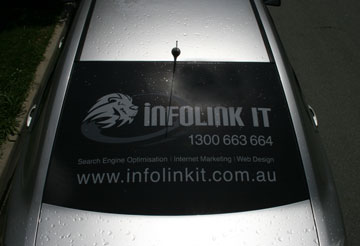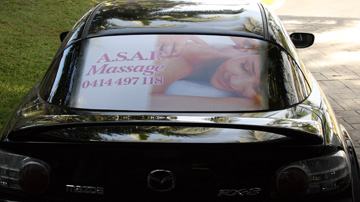 What you need to tell us:
Maximum width and height dimensions of your glass windscreen(s)? Tape measure works best.
Do you have print ready finished artwork or request Eco Graphics to provide you with a proof and professionally finished artwork for your windscreen stickers? Maybe you have a high resolution or line art logo to provide?
Be noticed by 1000's of vehicles passing by and reap the rewards.
Eco Graphics vehicle window signage captures the attention of walk and drive by traffic ultimately boosting your profits.
Create free advertising and awareness to your business, product or brand for minimal once off cost.
For a FREE quote email now or call us: (07) 5500 0400 for the best quality car window stickers at low prices!
Window or windscreen stickers, printed one way see through stickers have holes in in; so you can see out and your many potential customers view your windscreen advertising. These one way view window stickers are applied to the outside of the windscreen.
Eco Graphics do not recommend applying one way view stickers to tinted glass.
*Contact us to see if your postsage address is inclusive. $199+gst price is for up to 1320mm x 600mm. Please enquire for larger sizes. If installation is required, it is extra and occurs in certain areas.
Please know that car window graphics, printed, one way vision film, car windscreen promotions, car window stickers, window signage, car windscreen stickers, vehicle window advertising, vehicle windscreen stickers, vinyl stickers, ute window stickers, car window stickers, one way vision printing, digitally printed one way vision, printed one way window film, truck window graphics, rear car window signage are all part of the same vehicle window signage family.